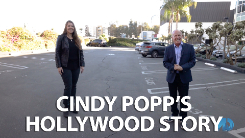 Cindy Popp's Hollywood Story
Cindy Popp's story is a great example of having a vision and manifesting it.



From Television City, Hollywood, we're back for another episode of "Financing The American Dream." I love Los Angeles because it's the place where dreamers come and bring their stories to life. Today we're meeting an Emmy Award-winning producer and director of one of Hollywood's biggest and longest-running television series. Cindy Popp graciously joined us to share her Hollywood story.
It all began right here at Television City. A new show was starting called "The Bold and the Beautiful" right after Cindy got out of college. She interviewed for a job, got it, and the rest is history.
She knew she wanted to work in television and film as a director, but wasn't sure what genre. Her advice? "Work hard, be your authentic self, and have the talent to back it up. And keep learning." Cindy is the textbook definition of a life-long learner, and she has worked on "The Bold and the Beautiful" for over 34 years. It is the No. 1 produced daytime show in the entire world.
"Westchester reminded Cindy of her childhood home in Orange County."
If that's not the spirit of Hollywood, I don't know what is. This is the place where dreamers come to make their dreams real, and Cindy does that every day. She even showed off not one, not two, not three, but five of her six Daytime Emmy awards.
When she's not dominating on TV, Cindy lives in Westchester. The reason she chose this neighborhood is because of how similar it felt to where she grew up in Orange County. She had picked out a home in the neighborhood years before she moved there, but it never came up for sale. However, the house next door did, and when Cindy walked inside, she knew immediately where she wanted to live.
Cindy is a dream maker and makes dreams real, but she does it by having the vision first. She's not only a producer and director of television, but also a producer and director of life's events.
I hope you'll join me next time for another episode of "Financing the American Dream." If you have any questions for me in the meantime, don't hesitate to reach out via phone or email. I look forward to hearing from you soon.