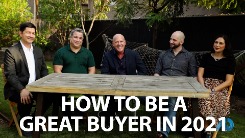 How to Be a Great Buyer in 2021
Here are a few suggestions for how to be a great homebuyer in 2021.



In this episode of "Financing the American Dream," we're discussing one of my favorite topics: first-time homeownership. I'm sitting with two of my preferred real estate agents—those folks who make 'yes' happen: business partners Jason Anderson and Ronnie Kline with the Anderson Team. We're also here with two of their fantastic clients, Julian and Ashley. We want to teach you how to be an excellent homebuyer in 2021.
It's currently an ultra-competitive market here in Los Angeles, but Jason and Ronnie make that 'yes' happen often for their buyers. One of their strategies is to make sure the buyer is completely underwritten before they begin looking for a home so that everything's ready in advance. Most people don't do that, but through working with me, they've learned that's crucial because it frequently leads to their offer getting accepted. If a buyer wants to live in a community that feels overpriced but thinks they can't have a home there, they recommend buying a two- to four-unit property and using the rent from tenants to offset their mortgage. That will allow them to purchase a higher-priced property that they may otherwise not be able to qualify for or afford.
Julian and Ashley were first-time homebuyers a few years ago, and if they could give advice to themselves five years ago, they would say not to wait. You want to be surrounded by a team that wants you to succeed. For years they worked on finding the right people to rely on who had full communication, were trustworthy, and would tailor a plan that worked for them as individuals.
"If they could give advice to themselves five years ago, they would say not to wait."
They knew they also wanted to buy a second home, so they thought about what they could afford on the main property and what was left over that they could use on a second property. They started looking at areas that might be a good fit, and they loved the desert for their second home. They decided to find a place in the desert to buy as a short-term rental so they could also enjoy it sometimes, and when they aren't using it, they can help pay their mortgage with it.
I love celebrating life's successes through homeownership. If you have questions about the financial side of buying a house, whether it's your first or not, give me a call or send an email. I would love to speak with you.