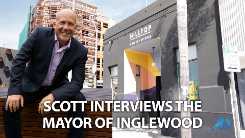 Scott Interviews the Mayor of Inglewood
I spoke with Inglewood's mayor and their top real estate agent.



Inglewood was founded in 1908 and is one of LA's oldest and most iconic cities. It's one of my favorite cities in the country, and it's getting a new coat of paint. Inglewood is one of the fastest-growing cities in the U.S., so today I'm meeting with Inglewood's top Realtor Erica Lockhart and Mayor James T. Butts Jr. to learn what's new in the city.
Scott: What's so unique about Inglewood, and why is your city growing so strongly?
Erica: I love what's happening to Inglewood. One of the oldest cities here in LA is becoming a new city within the city. I was born in Inglewood, I lived here for many years as a child, and my mother still lives here, so Inglewood is very near and dear to my heart.
From a real estate perspective, it's also a fantastic city. I think homeowners are so excited about the equity growth we've seen. It's a fantastic position to be in as a homeowner. Four years ago, the median sales price in Inglewood was $455,000, and the highest sale was $835,000. In 2020, the median sales price was $698,000, and the highest reported sales price was just under $1.3 million.
"One of the oldest cities here in LA is becoming a new city within the city."
Scott: I love what it feels like to be in a city with so much life, vibrance, belief, and opportunity. Mayor Butts invited us here today to the beautiful SoFi Stadium that he inspired the city to create.
Mayor Butts: It's a beautiful story that we're glad to tell. We made an agreement with Madison Square Garden to refurbish the forum for $100 million. Within 14 months, the forum was the No. 1 concert venue in California, No. 2 in the country, and No. 3 in the world for booked events. Since 2014, we've reopened the forum, obtained commitments from three professional sports teams, the LA Youth Orchestra, and the Girl Scouts.
What we've done has been done in other megacities, but what we did in five years took them a generation. We're going to have a 300-key hotel, a dine-in movie theater, about 900,000 square feet of retail and fine dining, and about 800,000 square feet of premier office space. We're also going to have about 2,000 residential units, four public parks, and a fantastic lake. It's the fastest-growing city in the country.
If you have questions about Inglewood or any other topic, please feel free to reach out to me. I look forward to hearing from you.