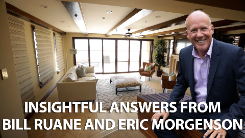 Insightful Answers From Bill Ruane and Eric Morgenson
Here's my latest episode of Financing the American Dream on CNBC.



It's time for another great episode of "Financing the American Dream." First, we're at Playa Del Rey to meet with one of my favorite agents, Bill Ruane. He's the No. 1 RE/MAX agent in California and I was delighted to get to sit down and pick his brain for a bit.
This is such a beautiful area and the luxury listing we're filming in is absolutely breathtaking. It's right on a beach that seems to go on forever. For those who will someday make Los Angeles their home, I have a feeling you'll be meeting Bill. He's the No. 1 agent in California and the No. 3 agent in the nation.
How is COVID affecting this beach city real estate market? According to Bill, people are looking for more space. They're working from home more often, and new legislation regarding ADUs (accessory dwelling units) allows people to add these spaces to their current homes as well. Buyers who were looking for a 2-bedroom unit pre-COVID are now looking for 3-bedroom units.
"The more jobs that self-employed borrowers create, the less likely they are to qualify for a home."
I also had the opportunity to talk with the great Eric Morgenson, product specialist here at Scott Griffin Financial. We went to SALT at the Marina Del Rey Hotel to check out some of the beautiful yachts in the marina and talk about some great solutions for self-employed homebuyers in today's market.
Self-employed borrowers are often discouraged because of the separate tax code, and they're worried they won't qualify based on their stated income. You see, the more jobs these people create, the more tax deductions they get and the less likely they are to qualify for a home purchase.
A lot of self-employed borrowers have a tough time verifying their income. They tend to qualify more with bank statements versus tax returns. Their buying power is so much greater when using what they're actually depositing on a regular basis as income versus their taxes. All self-employed homebuyers should know that programs like these are available through your local mortgage broker like myself or Eric.
If you have any questions about anything we discussed today, don't hesitate to reach out via phone or email. I look forward to hearing from you soon.