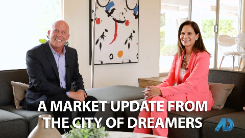 A Market Update From the City of Dreamers
A perfect storm has formed in our LA real estate market.



Verify your mortgage eligibility (Apr 1st, 2023)
I've discovered that we often become who we are in life through the people we choose to surround ourselves with, and that's why I love LA: It's a city of dreamers.
This is the city that makes dreamers into stars, and if you're willing to dream boldly enough and be authentic to your dreams, LA will give you the playground you need to find out what that means for you. In fact, as you can see in the beginning of the video above, I get to live in a place overlooking Hollywood, where dreams happen. I've learned that the people around us, such as my neighbors—celebrities to my left, deans and entrepreneurs to my right—are the believers in life, and you and I often find ourselves engaging with them because we live near them.
Verify your mortgage eligibility (Apr 1st, 2023)
Since today's topic is why I love LA, I thought I'd also sit down and have a chat with Stephanie Vitacco, another Keller Williams agent and fellow dreamer of industry. Stephanie has become the top KW agent in the entire nation, and she, too, lives in LA. I was able to visit one of her beautiful listings in Tarzana, and we talked about buying real estate in LA. The listing in question fetched 28 offers once it hit the market—a feat not uncommon in our current environment.
"This is the city that makes dreamers into stars."
As Stephanie explains, interest rates are as low as they've ever been, and the COVID effect has taken hold on many homeowners. It's a perfect storm that's caused them to want to make a change. How do you compete and buy an LA home in this market?
First, she recommends getting pre-approved with a good lender so you know what you can qualify for and avoid unpleasant surprises. Second, align yourself with a good agent who has local knowledge of the neighborhood you want to buy in, both the pros and the cons. This will help you understand what you're up against. Lastly, be prepared for the market's temperature. You may have to bid on as many as 10 properties before winning one.
If you're ready to make a change in your life and buy a new home, get in touch with me today and I'd be happy to help you find the perfect fit. If you have any other real estate needs, feel free to reach out to me as well. I look forward to speaking with you.
Show me today's rates (Apr 1st, 2023)