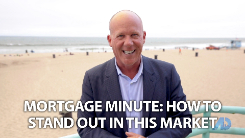 Mortgage Minute: How To Stand Out in This Market
I'm sharing some winning strategies for this competitive seller's market.



Today I wanted to focus on winning strategies that help you get the home you fall in love with.
Here's my recommendation for non-cash buyers: get pre-approved and initiate the conversation with your lender. By getting pre-approved, you're signaling that you're prepared to be successful to your agent and the seller.
This is the year of winning real estate, not buying it. My second tip is that now it's more important than ever to create a great working relationship with an experienced agent so they can help you win your offer on the home you fall in love with.
If you have any questions, please feel free to reach out to me.