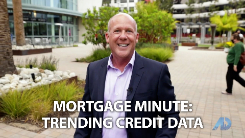 Mortgage Minute: Trending Credit Data
What is trended credit data?



In today's "Mortgage Minute," I'd like to talk about something that most of us probably haven't heard about: trended credit data. It's no longer just based on what we understood as our credit scores.
Trended credit data allows lenders to see how you, as a credit user, pay your monthly expenses with revolving credit cards. Lenders will look back up to two years to see if you had a high balance and were working aggressively to pay it down. These patterns will allow them to assess credit risk differently.
I bring this message to you today to let you know that this is an opportunity to be seen in the new algorithm by paying $10 more per month on your minimum payments.
If you have any questions about trended credit data or anything else to do with real estate, don't hesitate to reach out to us. We'd love to speak with you.