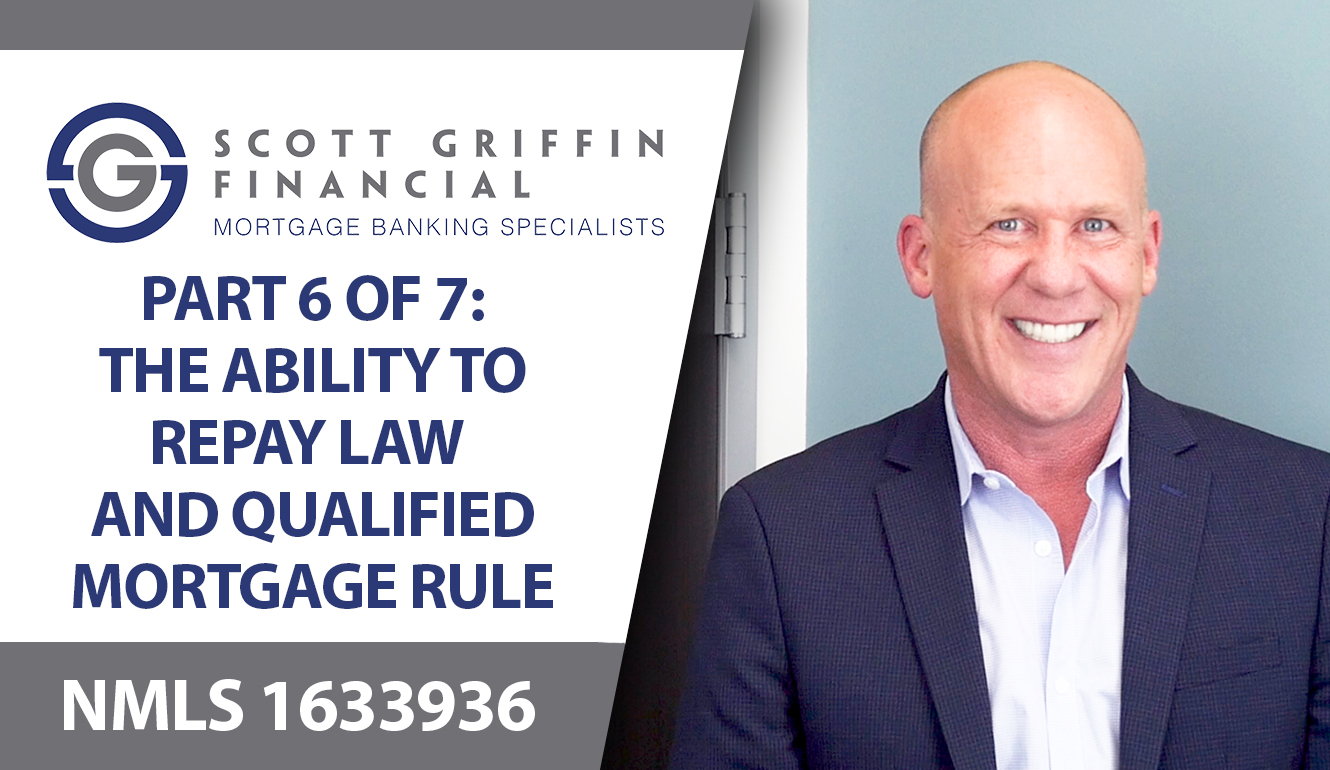 Part 6 of 7: The Ability to Repay Law & Qualified Mortgage Rule
Verify my mortgage eligibility (Dec 2nd, 2020)
Welcome to part six of my seven-part series about the big changes that have happened since the mortgage meltdown! Today I'll discuss the Ability to Repay Law and the Qualified Mortgage Rule.



Giving loans to people without validating their ability to repay them is called "blind lending," and this partially contributed to the 2008 market crash. If applicants were leaving sections blank, how could the lenders know that the borrowers would be able to pay them back?
In today's market, however, ascertaining a borrower's ability to repay a loan has become law. In fact, it's now required that anytime consumers go to buy a house with a bank's mortgage, the bank must go through eight steps to validate that the consumer can actually repay it. That means the bank will never be able to participate in blind lending again.
Verify my mortgage eligibility (Dec 2nd, 2020)
In addition, something else came along with the Ability to Repay Law called the Qualified Mortgage Rule, which ensures the loan recipient doesn't overpay on the loan after they've been deemed qualified for it. For a loan to become qualified, it has to meet very specific requirements regarding the charges and fees from the lender.
The qualified mortgage rule also benefits the lender by removing liability if the recipient is unable to repay the loan and tries to sue. In the past, one strategy to avoid foreclosure was to sue the lender in exchange for stating that they didn't validate the borrower's ability to purchase the house.
Verify my mortgage eligibility (Dec 2nd, 2020)
Even though the qualified mortgage rule isn't a general requirement, Fannie Mae, Freddie Mac, the FHA, and the VA require all loans to be delivered in a qualified mortgage setting, meaning that the loan is most likely going to become a qualified mortgage.
These changes help us to move forward with the home purchasing process in a much safer environment than in the past. It invites a new level of security and safety to the real estate market space, and I thought you should know about it.
If you have any questions about today's topic, reach out to me so that we can review your homeownership and design your success with it. I can't wait to visit with you directly!
Show me today's rates (Dec 2nd, 2020)