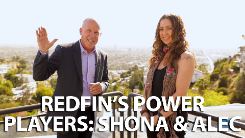 Redfin's Power Players: Shona & Alec
Chatting with Alec Traub and Shona Killoughery, two of Redfin's LA stars.



Today I'm coming to you from my favorite part of Los Angeles: The resplendent Hollywood Hills, right above iconic Sunset Boulevard—also known as the place where dreamers come to live! Let's go check out the magnificent property that was previously owned by one such dreamer, Nicolas Cage, and the amazing professionals who are currently representing it on the market.
Redfin's Alec Traub is the listing agent of this stellar home. (You can meet him and see some lovely interior shots starting at 0:48 in the video above). Alec joined Redfin in 2010 and employed a skilled team to cover as much ground as possible and penetrate the Los Angeles market, which is arguably the most competitive in the country. Now, Alec's team is 200 strong, with each agent doing 25 to 30 deals per year.
The dynamics of real estate are changing; how is Redfin positioning itself as a leader for the future? What does it do differently? According to Alec, it boils down to the ease of the transaction. Every part of the transaction can be done remotely if need be, and that's enabled Redfin agents to maximize exposure and bring those otherwise inaccessible buyers to the table.
"Redfin's Concierge program is designed to strategically accentuate a property's features and maximize exposure."
For example, his team recently helped a buyer in Singapore who was looking for a $6 million to $7 million house in the Hills. The buyer was able to complete the transaction on a wonderful property without ever having to step foot in the city.
At 2:36 in the video, you can see the jaw-dropping roof of today's featured listing, complete with trees, fountains, and a koi fish pond. You'll also see the lovely rooftop walkway that I used to reach Shona Killoughery, director of real estate for Redfin. She and her team have developed an exciting new program called Concierge. It's designed to identify exceptional properties and strategically accentuate their features to instigate buyers' emotional desires. As Shona put it best, the way we live in our homes is much different from how buyers want to see a property presented to them.
With the Concierge program, all of those little things you forget about or fail to notice on a day-to-day basis will be fixed up. This allows your home to be marketed to a larger audience as a fresh canvas that can accommodate a wide variety of different lifestyles and functions. Redfin and its forward-thinking leaders like Alec and Shona are a testament to what can happen when dreamers come together to make bold change happen.
If you ever have any questions, call or email me. I would love to help you.