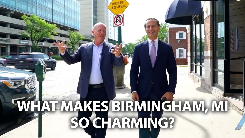 Touring Birmingham, MI With Mayor Boutros
Today on "Financing the American Dream," we're visiting Birmingham, Michigan.



Today on "Financing the American Dream," we're coming to you from lovely Birmingham, Michigan! It's one of the state's finest cities, so we wanted to talk to mayor Pierre Boutros about what it has to offer.
When we first came to Birmingham, we were amazed by its vibrant downtown. For a relatively small city, there's a lot going on. As you walk down the street, the people are friendly and open to conversation. However, mayor Boutros reminds us that Birmingham is more than just downtown. The city is also home to great living spaces that offer a small-town feel with high-end living.
After getting a feel for the city, we talked to Sean Kammer about Birmingham's new shopping district. Sean is the executive director of the district, so he's in charge of the streetscape, maintenance, marketing, economic development, and everything else related to making downtown the best space it can be.
"Birmingham offers both small town charm and high-end living."
Sean talked to us about Day on The Town, Birmingham's signature retail event. It's a huge sidewalk sale that involves over 80 businesses working together to provide a great experience for tens of thousands of participants. It is the quintessential demonstration of Birmingham's small town, team-focused charm.
We would like to thank Mayor Boutros and Sean once again for showing me their lovely town. As always, if you have any real estate questions, please feel free to call or email us. We are always willing to help!